Ear Acupuncture is the solution to your Weight Problem
|
https://sites-animaux.com/2013/12/20/ear-acupuncture-is-the-solution-to-your-weight-problem/
According to a small study, ear acupuncture might be the solution to your bulging problem.
It is said that the five acupuncture points is better at reducing abdominal fat (the midriff bulge) compared to the single point stimulation.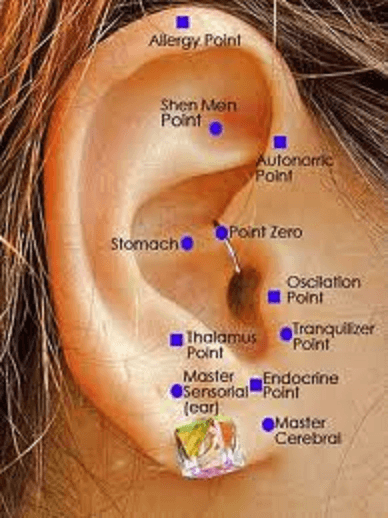 The Auricular acupuncture therapy got based on the understanding that the outer ear is connected with every part of the body. It was in 1956 when Dr Paul Nogier first used the method for treating a patient's back-ache after sustaining a burn on the ear.
After that, ear acupuncture was used for treating smoking and weight loss problems.
A group of Korean researchers used the acupuncture of five points on the outer ear — shen-men (divine gate); spleen, stomach, hunger, and endocrine — and one point (hunger) — with sham treatment on 91 overweight adults (BMI of 23 or more).
Each participant underwent a restrictive diet, but never did take any exercise during the eight weeks that they were treated.
The participants were separated into two groups – one is that treated with the five points while the other group got treated with the one point treatment.
All of the participants were weighed and measured before and after the treatment.
Noticeably, there were twenty four people dropped out before the eight weeks ended, 15 of which comes from the one point treatment group. The finding suggest that they might have a hard time regulating their desire to eat and cope with the restrictive diet.
However, those who continues with the treatment shows a 6.1% (5-point treatment) and 5.7% (1-point treatment) reduction, respectively, in BMI compared with the one point treatment group among whom there was no reduction in BMI.
Weight also differed significantly after four weeks in both active treatment groups compared with the one point treatment group.
The waistline was reduced – the largest drop seen in the group on the 5-point treatment compared with the one point groups. However, the difference may be due to their age and not because of the treatments they received.
The whole body fat were also reduced for those that belong to the 5-point groups. The blood pressure wasn't affected much during the whole process.
Researchers conclude that both five and one point can help people to lose weight, but the five point approach is far more effective to help people lose weight.