You'll be amazed on how much Cameron loses in The Biggest Loser
|
https://sites-animaux.com/2014/02/03/youll-be-amazed-on-how-much-cameron-loses-in-the-biggest-loser/
For the first time, a 34 year old father of three manage to shed more than 10 pounds in the Australian reality show, The Biggest Loser . Last Sunday when the Cameron step on the weighing scale, everyone got surprised as he lose 15 pounds in his first week.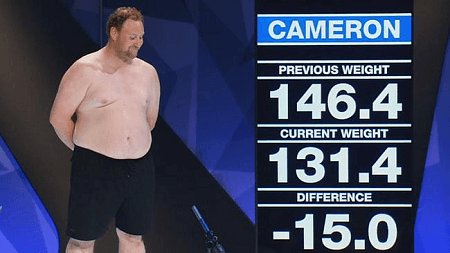 The Superstore manager who weighed in 146.4 kg is now 131.4 kg. This is the first time that it happened on the reality TV show so he holds the record for being the guy that lost more in a week. He lost more than 10 percent of his body weight.
Cameron confessed that his daughter got hysterical about the doctor's finding that he would soon die if he don't take care of himself. Fortunately, he took it as positive and work hard to lose weight.
34 yr. old Craig comes in second as he manage to lose 13.4 kg. However, not all the contestants of the reality show got a positive outcome as Rodger and Mary were put in the elimination after their team lose.
Mary got lucky as the team voted Rodger out of the contest. She would be given another week to prove herself worthy of the reality show. Rodger will go home 5.9 kilograms lighter he got sent home to join the red team.
Rodger will be given another chance to get back at the competition if he is lucky enough to return to the show.